Speakers
MARCHA 2017, in collaboration with the National Hispanic/Latino National Plan of the UMC, will offer a diverse first-class lineup of speakers and work group facilitators that will invite participants to a transformational  reflection and engagement on issues impacting the Hispanic community and the society in general and share a vision of hope for the future of our communities, and ministries.
Mark Hugo López
 Mark Hugo Lopez is director of Hispanic research at Pew Research Center. He studies the attitudes and opinions of Latinos, Hispanic views of identity, the political engagement of Latinos in the nation's elections, and Latino youth. Lopez also coordinates the Center's National Survey of Latinos, an annual nationwide survey of Hispanics.
Pablo Alvarado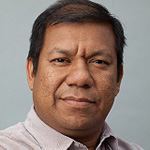 years, Alvarado, 38, is considered the Cesar Chavez of the jornaleros (day workers), who assemble on street corners, offering to do odd jobs. He is credited with, among other triumphs, spearheading the campaign to overturn ordinances around the country that prohibit day laborers from soliciting work in public places and with forming alliances on issues like better working conditions and higher wages with union federations, which tend to see immigrants as competitors.
Astrid Silva
Astrid Silva is an undocumented immigrant from Mexico living in the United States. The DREAMer and immigration activist made a national name for herself after she spoke at the Democratic National Convention in 2016.
Bishop Minerva Carcaño
Minerva Garza Carcaño was elected to the episcopacy in 2004 by the Western Jurisdictional Conference of the United Methodist Church, the first Hispanic female ever elected bishop. he has a long history of committed involvement in ministries with immigrants and refugees, the poor and US/Mexico border communities. She has encouraged and led congregations to be active in community organizing and to work ecumenically believing that communities hold the experience and wisdom to create a world of justice and peace if they will but come together.
Alexis Francisco
As Graduate Student Intern, helped to organize and coordinate the East Harlem Community Alliance – a consortium of non-profits, businesses, religious organizations and government agencies working together to enhance the vitality and well-being of East Harlem. The Alliance pursues its mission by undertaking joint projects and activities designed to address the needs of the residents of East Harlem, and by serving as a forum through which member organizations can create connections, share information, and continue to grow and thrive in East Harlem.
Justo González
CLICK HERE FOR MORE INFO AND REGISTER TO ATTEND MARCHA 2017